Raising the Standard in Massage Education
Academy for Massage Therapy Training is dedicated to offering the best massage therapy anywhere. It all starts with how well we do in the classroom.
First, students complete a minimum of 250 hours of classroom instruction, where they are challenged to develop and refine their technical skills in massage. In addition, the students must complete rigorous coursework including the study of human musculoskeletal anatomy and physiology.

Second, upon completion of all classroom work, students must pass two practical examinations where they must demonstrate to certified massage instructors expertise in not only relaxation massage, but deep tissue massage as well. Deep tissue massage is what we specialize in.

Third, many of our students opt for advanced coursework, where they can learn additional therapies and skills such as trigger point massage, facials, body wraps, and people skills.

Finally, the feedback that you give as massage guests is extremely helpful to build the skills and confidence of each student. We ask that each guest complete a quick, simple evaluation form at the end of each session.
SUPERIOR FACILITIES
Academy for Massage Therapy Training offers all the resources required for an effective and enjoyable learning experience. We have spared no expense to provide for you the most advanced, attractive, comfortable and learning conducive environment.  The investment we have made in our facilities and equipment demonstrates how serious we are about your education.  We are a fixture in South Texas and we are here to stay…for you.
Our superior facilities encompass over 10,000 square feet of state of the art amenities including:
AMTT's unique Day Spa offers amenities superior to many up-scale day spas including: two wet rooms, four Vichy showers, six private whirlpool tubs, comfortable massage therapy foot rejuvenation stations, and seventeen private massage therapy rooms.   Each of these rooms is specifically designed to provide an "escape" for your clients and include comfortable, professional grade massage therapy tables, hot towel warmers, soft lighting, and relaxing music.
Our Massage Therapy Lab includes 18 late-model, top of the line Oakworks brand massage therapy tables and related accessories, so that you may learn massage therapy on the best equipment available.  This lab is specially designed to create a peaceful environment conducive for learning the art of massage, including relaxing music, lighting, and ambiance.
Our expansive Lecture Classroom with comfortable seating for 60, cutting-edge audio visual equipment, computer aided, easy-to-follow presentations for all lecture lessons; 3-dimensional anatomical charts, and life-size skeletons to enhance your learning experience.
DEDICATED FACULTY
We are extremely proud of the faculty and staff at AMTT. Each faculty and staff member brings a very special and unique insight to your training. Our instructors pour their hearts and souls into the training that is provided for you. They are very much concerned with and dedicated to you and the training that you receive. It is the goal of every faculty and staff member to give you all of the skills necessary to not only pass the state board but also to help you become a successful massage therapist.
Each instructor is:
A graduate of AMTT.
Our methods, techniques, philosophy, and approach to the art and science of massage therapy is so unique and cutting edge it requires a solid foundation in the learning styles and teaching methods used that can only be fully comprehended when discovered as a student.
A practicing massage therapist.
In order to be able to relate real-life experiences to students, instructors must keep their skills sharpened by providing regular massage therapy.
Required to complete at least 12 hours of continuing education each year.
In addition to providing massage, advanced training is a key way that instructors can continue to enhance their skill. Students benefit greatly from the new information and techniques their instructors learn.
MEET OUR INSTRUCTORS
Esther M. Nail, LMT MTI Founder & Owner.
Esther teaches Massage Technique, Internship, Pre-Natal, and Seated (Chair) massage. Esther successfully built her massage therapy practice to include numerous physician referrals. She has also had extensive training in soft tissue mobilization techniques, myofascial techniques, sports massage, and neuromuscular therapy.
John Durland, LMT, MTI, AHA CPR/First Aid Instructor, Director of Education.
John is a graduate of AMTT and now serves as an instructor. His demeanor, effective presentation style, and experience allow him to convey information in a down-to-earth and enjoyable manner. John teaches Health & Hygiene, CPR & First Aid, Anatomy and Physiology, Pathology, Kinesiology, Hydrotherapy, Business Practices and Professional Ethics, Clinical Internship, and Massage Technique.
Eva Rangel LMT, MTI, Instructor
Eva has been a Licensed Massage Therapist since 2012. She teaches Massage Technique, Health & Hygiene, Anatomy & Physiology, Pathology, and oversees the Clinical Internship. Eva's real-world experience combined with her passion for teaching instills a deeply rooted love for massage to all of our students. Eva teaches Massage Technique, Anatomy & Physiology, Health, and Hygiene and Pathology and Clinical Internship.
Kodi Jackson, LMT, MTI, Instructor
Kodi served the United States Air Force for 7 years. He decided to become a massage therapist just after leaving the service because he wanted to continue helping others as he had done in the military. Kodi began working with AMTT as a Student Services Representative while remaining a part-time massage therapist in order to enhance his overall understanding of massage therapy in regards to client reasoning and what drives prospective students to become massage therapists. His ultimate goal was to be able to give back to the school and the mentors that taught him so much and to all the future therapists to come. Kodi became an instructor to be a part of a greater mission that creates and pushes passionate people toward their goal of becoming an LMT.
David L. Huff III, LMT, MTI, CESM, Instructor
David has an immense fascination on how the human body works. He graduated from AMTT in 2011 with Honors and attained his license that same year. David has trained win TMJ massage, Sports massage, Cupping, Medical massage, Oncology massage, and a Certified Equestrian (horses) Sports Massage Therapist. David teaches Semester 3.
Jessica Gutierrez, LMT, MTI, Instructor
Jessica is a 2005 graduate of AMTT, completing the Massage Mastery Program focusing on Trigger Point. Upon receiving her license in 2006, she worked in the massage therapy industry for 8 years, assisting clients with specialized services relieving their aches and pains. Throughout her massage therapy career she has consistently focused on her continuing education, never satisfied with knowing just the basics. With having her license now for 14 years, she is very excited to start on her Instructor path, helping teach the next generation of LMT's. She loves how eager they are to learn.
LICENSING PROGRAM
The state of Texas requires a minimum 500-hour course of instruction for licensure as a massage therapist including the following subjects: Massage Therapy Technique, Anatomy & Physiology, Kinesiology, Health & Hygiene, CPR & First Aid, Hydrotherapy, Business Practices, Professional Ethics and Massage Therapy Law and a Clinical Internship. This coursework is fundamental to providing effective massage therapy to the public and preparing you for your licensing examination. In addition to the 500 hour course, AMTT also offers a 570 Hour Program.  In the 570 hour program, you will gain the experience of 70 additional internship hours, and get more one on one experience with AMTT clients!
Academy for Massage offers the most innovative, comprehensive massage program available. What we teach is what is in demand and the most effective hands down. Our program includes the following core subjects:
Massage Technique – 200 Hours: This subject allows us to teach the art of massage therapy. We begin with basic Swedish Massage strokes and gradually work students into providing a wonderful relaxing massage. Additionally, we incorporate our trademark WorkSmart method of massage from day one. The goal of this subject is to impart the science and art of massage therapy to every student to provide a relaxing massage, taking into account the fact that every client is an individual and has individual needs in their massage.
Health & Hygiene, CPR & First Aid – 20 Hours: Students will study and understand indications and contraindications to massage, the effects of stress, the benefits of massage, the importance of proper body mechanics, disease recognition and understanding, and the importance of good personal hygiene practices.
 Anatomy, Physiology & Kinesiology – 125 Hours: Understanding the structure and function of the human body with an emphasis on the muscular and skeletal systems is of utmost importance for the skilled massage therapist. We utilize animated video, exercises, and class projects to help students better comprehend the structure and function of the human body. Additionally, our customized textbooks are specifically designed for students of massage therapy and correspond with full-color, animated presentations used in class.
Hydrotherapy – 20 Hours: Students will learn to use hydrotherapy in a safe and effective manner through demonstrations and hands-on practice. Types of hydrotherapy to be discussed include: whirlpool, hot and cold packs, paraffin, steam, body wraps, body scrubs, Vichy showers, and facials.
Business Practices & Professional Ethics – 45 Hours: From advertising practices to maintaining your zeal for massage therapy, this dynamic and insightful course will equip you to build a massage practice you can be proud of and in which you can enjoy. In addition, we will discuss in detail the scope of practice for massage therapy, laws pertaining to massage therapy and all businesses in general.
Pathology – 40 Hours: Pathology is the study of human disease and the effects of the disease. This information is important to the massage therapist because there are conditions where massage would require caution or perhaps not recommended.
Clinical Internship – Hours vary based on program: Your clinical internship will be the most rewarding part of your massage therapy education. You will complete an internship in our Massage Clinic, providing massage and spa services to our very well established clientele.
Student Video Testimonials
- Recent Graduate
"Having gone through AMTT's program, you feel much more confident doing massages on clients for your internship."
- Harry Dabney Co. Us Army Ret
"AMTT is without question the best massage therapy academy in San Antonio."
- Current Student
"AMTT provides a personable as well as professional environment to learn in"
- Recent Graduate
"When you graduate from AMTT, you know you  are prepared for the state board exam and ready to go out into the public and do a good job"
- Current Student
"Thank you to AMTT for making my first week of internship a great one through your kindness & all your help."
- John Durland, Director of Education
"AMTT provides every tool necessary to give Students the training they need walk out our door upon graduation and be successful."
- Recent Graduate
"There's no better feeling than knowing you helped increase a client's mobility, providing them more energy, and reducing or even eliminating pain they have been living with."
Dear Prospective Student,
I am glad that you are considering Academy for Massage Therapy Training (AMTT) for your massage therapy education. You will find that no other school offers a higher level of training in massage therapy.
Academy for Massage Therapy Training is superior and unique for three main reasons:
Our Unique Approach to Massage

 

– The WorkSmart Method of Massage®. This proprietary approach to massage therapy solves many of the would-be physical challenges of providing massage therapy on a full-time basis. Problem solved! You will learn how to use your body properly and in the most efficient manner known to the industry. Whether you're five feet tall or six feet tall, strong or petite, we will teach you how to use what you've got to be the best you can be and for as long as you want to practice.
A Real World Experience – AMTT is acutely aware of industry standards and consumer demands. These standards, demands, and associated techniques are what we teach in our Massage Programs. This assures you of the best quality, most relevant education experience possible.
Massage Mastery Program – This alternative to the basic licensing program will better prepare you for professional practice because it allows you to complete more practical hours prior to graduation while saving you thousands of dollars in tuition expense. In this profession, the learning definitely comes in the doing, so having more opportunities to refine your skills prior to graduation is priceless. We will discuss this program in detail later in this catalog.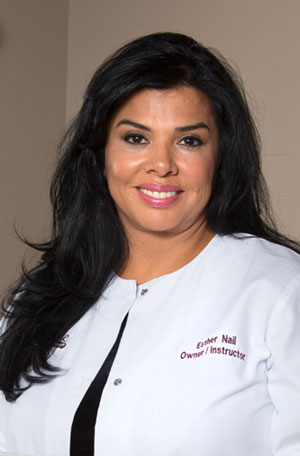 Founder
Esther Nail, LMT, MTI
Raising the Standard in Massage and Body Therapy
My experience with massage goes back to 1989, when I attended massage therapy school. I began my first massage therapy practice, Massage Concepts, in Alamo Heights, Texas in 1990 and later opened two rehab clinics called Advanced Neuromuscular Rehabilitation Clinics. I also started wellness programs at USAA and Pioneer Flour Mills.
I realized immediately that the skills necessary to be successful had to be sought outside of the standard educational programs at massage therapy schools available at the time. As I developed my skills, my massage practice quickly grew and before long, I found myself in need of additional staff of massage therapists.
As I interviewed prospective massage therapists, I realized how unprepared the majority of the applicants were. The weaknesses were primarily a lack of understanding of muscular anatomy, lack of emphasis in professional ethics and boundaries, and inability to do little more than "spread lotion" when providing a massage. Therefore, I became an instructor in 1996 and began looking at the prospect of establishing a massage therapy school where improvements in these areas could be made at the basic level. Academy for Massage Therapy Training received its License as a Massage Therapy School in November 1996.
My goal was and still is to "Raise the Standard" in massage and body therapy. Since then, I have moved the school four times, each time to a larger location due to the high demand of students choosing Academy for Massage Therapy Training. We have now become Texas' largest, privately owned massage therapy school, with approximately 200 graduates per year, over 10,000 square feet of educational, clinic, and beautiful day spa facilities. We have created an environment that will give you an educational experience like no other. As you complete your clinic hours, you will have the opportunity to do so in an environment that is as close to "real life" as possible because of the skills and services you will be providing as well as the fact that your internship will be conducted in our school Day Spa.
Academy for Massage Therapy Training has become recognized in the industry for our superior quality training. Therefore, our graduates are highly sought after for employment.
No one in this industry understands the demands of this market better than AMTT. We strive to impart to our students the knowledge and skill set it takes to be successful in this industry. We hope you decide to attend AMTT and become part of this elite group of massage therapy professionals.
If you are sincerely interested in a future helping others to achieve a greater level of physical, emotional and mental health & well-being; if you want to learn how to provide massage & body therapy using the most effective techniques; if you want to give yourself the greatest opportunity for success; Academy for Massage Therapy Training is your BEST choice for professional massage & body therapy education.