Greetings Texas Massage Therapists!
We are very pleased that you are considering Academy for Massage Therapy Training as your continuing education provider. It is our goal to make sure that your experience with us is every bit as interesting, educational, fun, and fulfilling as you would hope.
The coursework that we offer has its foundation in our experience as massage therapists. We have developed methods and techniques that have made us the busiest massage therapy school in the state. We are always excited to share our formula for success with anyone who is interested. Last year, our clinics and spas provided over 36,000 hours of massage and spa therapies, and this year we are on pace to provide over 50,000 hours.
We have a formula that not only works but also is in great demand. The courses we offer follow techniques, methods, and principles that we use every day. We hope you will find them useful, that you would adopt them, and that they help you to enjoy all the success you desire. We look forward to seeing you in one of these workshops soon!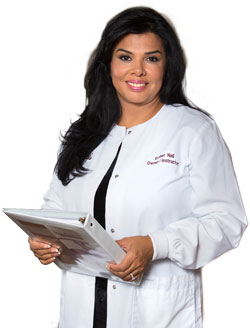 Esther M. Nail, LMT,MTI
Owner/Founder, AMTT
ESTHER NAIL: LMT, MTI, FOUNDER
Esther attended massage therapy school in 1989, and by 1990 had gone on to work for a group of doctors, providing advanced massage techniques for pain management at St. Rose Hospital. In 1991, she opened her first massage therapy clinic, Myotherapy Concept in Alamo Heights. Two years later she opened Advanced Neuromuscular Rehabilitation Clinic, where she worked mostly with doctors' referrals from places like Texas Spinal Clinic, working with patients pre/post-surgery for pain management. One year later Esther started a wellness program (on-site massage therapy at Pioneer Flour Mills and USAA). In 1994 she earned her massage therapy instructor's license (MTI) and opened Academy For Massage Therapy Training. AMTT is not only the single largest massage school in the state but also is known as having the most innovative massage instructional program. Our instruction includes programs such as: SPA Certification (the first and most intensive spa therapy program in Texas), WorkSmart, ISTT (Integrated Soft Tissue Therapies), C-ME (Corporate on–site massage training), Essential Touch (Prenatal, Labor, and Infant Massage), as well as Doula Certification Classes.
JOHN DURLAND: LMT, MTI – CERTIFIED WORKSMART & SPA INSTRUCTOR
John is a graduate of AMTT and now serves as an instructor. John's demeanor, effective presentation style and experience allows him to convey information in a down-to-earth and enjoyable manner.
- Recent Graduate
"Having gone through AMTT's program, you feel much more confident doing massages on clients for your internship."
- Harry Dabney Co. Us Army Ret
"AMTT is without question the best massage therapy academy in San Antonio."
- Current Student
"AMTT provides a personable as well as professional environment to learn in"
- Recent Graduate
"When you graduate from AMTT, you know you  are prepared for the state board exam and ready to go out into the public and do a good job"
- Current Student
"Thank you to AMTT for making my first week of internship a great one through your kindness & all your help."
- John Durland, Director of Education
"AMTT provides every tool necessary to give Students the training they need walk out our door upon graduation and be successful."
- Recent Graduate
"There's no better feeling than knowing you helped increase a client's mobility, providing them more energy, and reducing or even eliminating pain they have been living with."