The practice of massage therapy is intriguing as it offers both relaxation and relief from physical discomfort. Individuals who are interested in this field can explore potential career paths that are both personally fulfilling and financially rewarding.
In the sections that follow, we are going to dive into the realm of massage therapy to explore the reasons why this field can be an ideal choice for a career. After reading this article, you may find yourself online searching for "massage schools near me" and learning about local opportunities to begin your pursuit of this profession.
First things first: we will briefly describe massage therapy and then jump right into the many benefits of this personally & professionally rewarding career. The purpose of this article is to act as a guide for you, whether you are thinking of making a substantial change in your work or starting out on a completely new path in your life.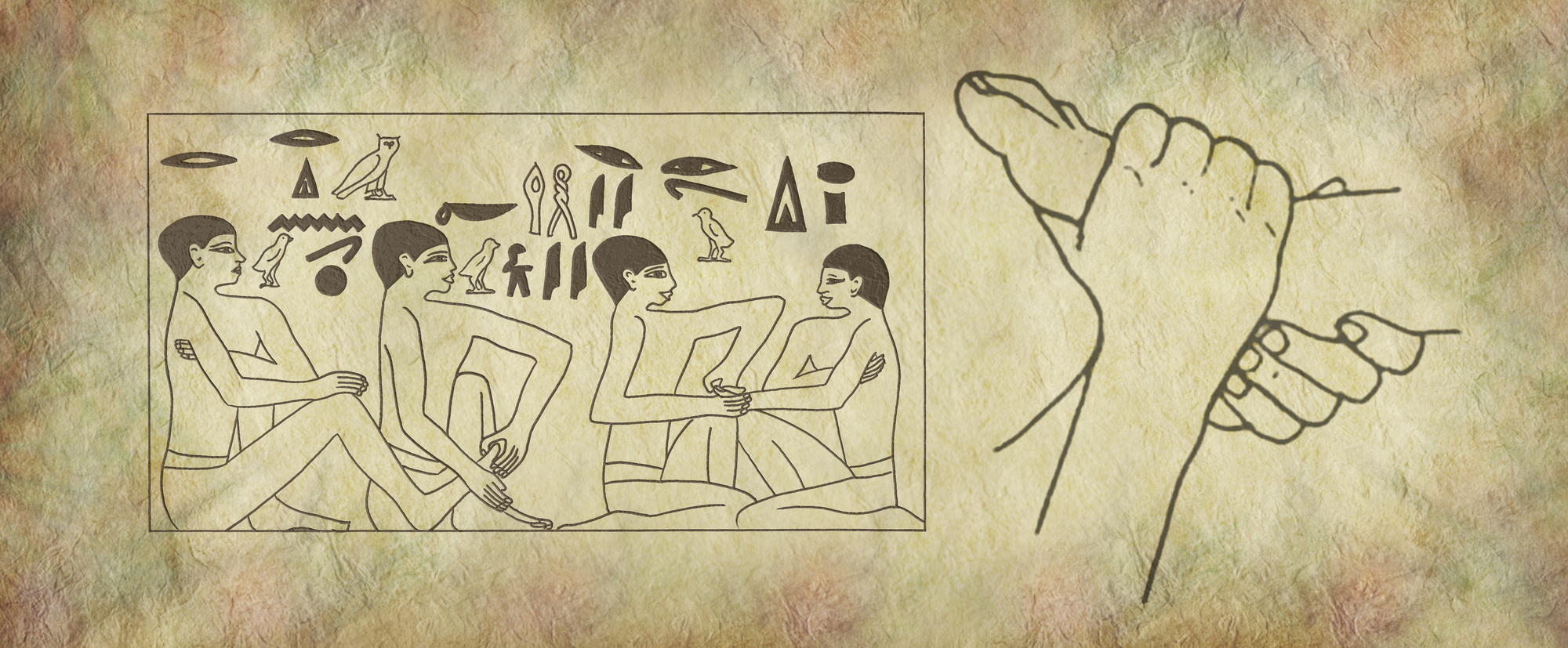 Massage Therapy – Defined
Earliest evidence of massage therapy dates back to 3000 BC in India.  It was used by Hindus in "life health" medicine and considered a sacred system of natural healing. The practice passed down through generations to relieve pain, heal injuries, and prevent and cure illnesses.  The word "therapy" comes from a Greek word for "healing" and refers to the treatment of impairment, injury, disease, or disorder without drugs or operations. The word "massage" refers to manipulation of soft tissues in the body, to include muscles, tendons, ligaments, and connective tissue. Massage therapists use various techniques, such as Swedish massage, deep tissue massage, and trigger point therapy, to improve circulation, alleviate pain, reduce stress, and promote relaxation.
Ultimately, massage therapists apply the science of body mechanics along with skills of healing manipulation & touch to help others. If you are at all interested in becoming a massage therapist, consider the following:
Benefits of a Career in Massage Therapy
1. Job Satisfaction and Fulfilment
An advantage of being a massage therapist is how happy it can make you feel at work. You can see how you are making people feel better in their bodies and hearts.
2. Flexibility in Work Settings
If you aspire to become a massage therapist, there are numerous opportunities out there, either working for a medical institution, with other health practitioners, in a professional massage establishment, professional sports organization, or in your own private practice.
No matter where you live, you can go online and search "massage therapy schools near me" to discover good training programs to kickstart your journey. Once you have completed your training and obtained your license, you will have a vast amount of options when it comes to selecting your workplace.
3. Low Stress Career
Many people experience excessive stress in the workplace. Sadly, for most of them, stress is considered "normal" for their occupation or industry. If you are interested in a low-stress career, massage therapy is a fantastic and value-added option.
Massage therapists work in relaxing, serene environments that cultivate a safe, calm, and peaceful space for clients. As such, it is an incredibly calm, peaceful, and pleasant environment to work in. When that environment is combined with the personally fulfilling rewards of helping others, it makes for an incredibly positive and low-stress occupation. That is why you will find massage therapy listed on many top lists, like Indeed's "15 Low Stress Jobs to Explore".2
4. Financial Stability and Growth
Salaries in the massage therapy industry are competitive due to the high demand of massage therapists. Earnings for massage therapists are influenced by several factors, including location, experience, and specializations. In San Antonio, Texas, the average salary for massage therapists surpasses that of starting positions requiring a four-year degree.
According to Zip Recruiter, the average salary in San Antonio for Licensed Massage Therapists (LMTs) is $57,244.3 That is $9,000 more per year than the average 4-year bachelor's degree salary in Texas.4
The financial stability from a career in massage therapy can provide a sense of security and enable you to achieve your financial goals while enjoying a fulfilling career. Plus, as an LMT, you can learn new specializations, adding greater variety to your work life while increasing your value and (potentially) increasing your earnings.
At AMTT, we specialize in a method specific to our school called The WorkSmart Method. This method emphasizes the use of the right body mechanics and leveraging gravity with body weight to enable the massage therapist to provide a more effective massage to the Client. Using this technique allows a massage therapist to extend the life of their career; which creates a longer-lasting ability for financial stability.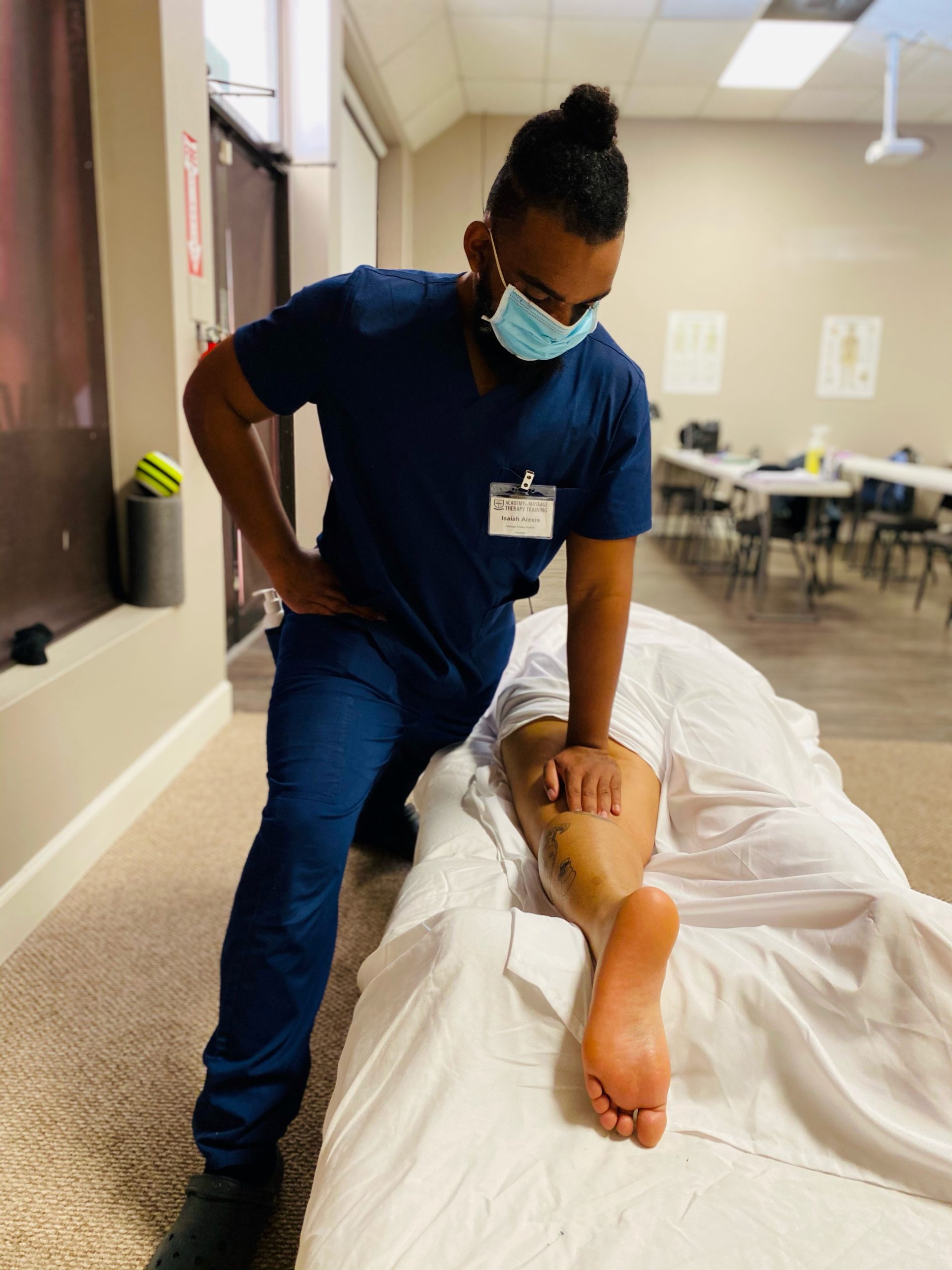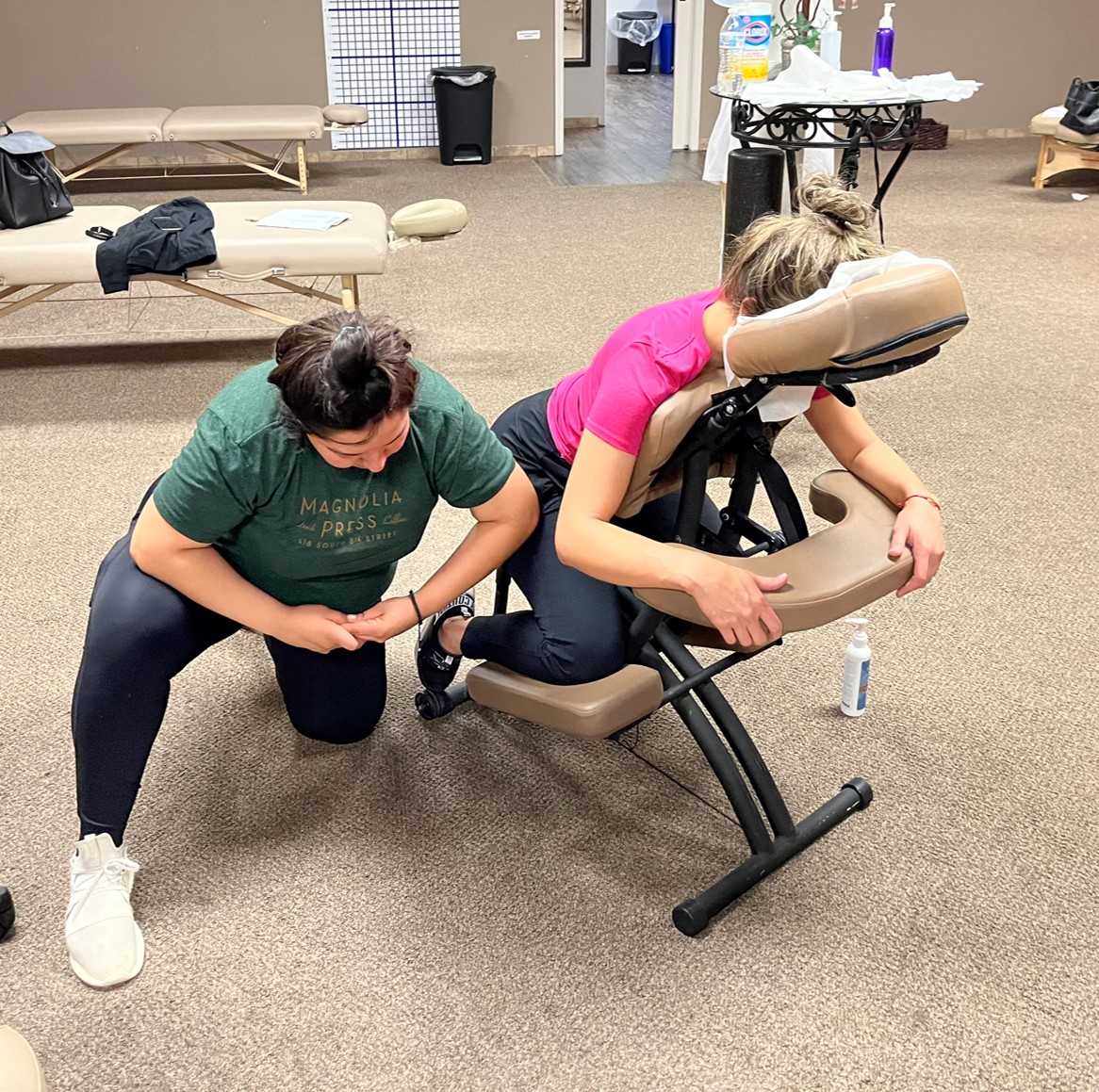 5. Rising Demand for Massage Therapists
People have been looking for trained massage therapists more and more over the past few years. People from all walks of life use massage to deal with pain, reduce stress, and improve their general health.
As a result, skilled massage providers are in high demand. The Bureau of Labor Statistics (BLS), reports employment of massage therapists is projected to grow 18 percent from 2022 to 2032. This is much faster than the average for all other occupations, with 24,600 job openings for massage therapists projected each year for the next decade.1 This growth is largely due to the increasing use of massage therapy as a treatment for medical conditions and injuries.
6. Self-Employment Opportunities
Many massage therapists decide to start their own businesses. This means you get to be in charge of your schedule, how much you charge, and the rules for your business.
Being your own boss allows you to craft a workplace in alignment with your beliefs & values. Many who start their own massage therapy practice find the added benefit of gaining greater control of their time and flexibility in managing the balance of personal and professional commitments. In the words of one of our former students, Elizabeth J.: "I am a Licensed Massage Therapist, Massage Therapist Instructor, and Founder of Alchemy Massage Studio. I graduated from AMTT at the beginning of 2022. I was able to get a job a month after graduating where I was making more money than before and having more free time to spend with my daughter. After a year, I got my massage therapist instructor's license and now I'm opening my massage studio. I love all the options that this industry can provide. Massage Therapy is a great career choice for anyone who wants both flexibility and great earning potential."
7. Enhanced Communication and Empathy
In massage therapy, it is super important to be good at talking and caring about others. You will learn how to listen and best support what your clients want and need. It's worth noting that cultivating connections with others while practicing as a massage therapist is advantageous, as it fosters a profound understanding of people, a valuable life skill.
8. Contribution to Health and Wellness
The benefits of massage therapy extend far beyond mere relaxation; they also have a positive impact on your general health. Massage therapy helps in improving sleep, lessen depression and anxiety, and ease chronic pain. It can also strengthen your immune system. Working as a massage therapist, you will make a substantial contribution to helping people relax and enhance their health, which in turn will have a positive impact on your health.
9. Lifelong Learning and Growth
Massage therapy is a vast and diverse field. Becoming licensed is often just the beginning for many massage therapists, who often seek to broaden their skills and develop specializations. The Academy for Massage Therapy Training (AMTT) offers more than a dozen different continuing education courses where LMTs can gain certification in Cupping Massage, Sports Massage, Lymphatic Drainage, Advanced Prenatal Massage, Oncology Massage, Therapeutic Stretching, and many more.
Your job as a massage therapist has many opportunities for growth and your career can always remain interesting and exciting. Aubrey B. recently shared her experiences: "In 2019, I graduated from AMTT. Kodi and John were my instructors. They helped grow my passion for massage therapy. After graduation and passing the MBLEX exam, I became employed at Massage Heights. I took several CE classes including medical massage, orthopedic assessment, sacral cranial release, and cupping. After about a year I began working part-time at a chiropractor's office. While there, I learned to read X-rays and think more critically about having good postural habits. Now, a little over three years into my massage therapy career, I am an instructor at AMTT. After a little over a year of instructing, and working with my fifth class, I have learned a lot. With each class, I discover better ways to teach the next one. Four years as a massage therapist and one and a half as an instructor, I can honestly say I love what I do, teaching future Massage Therapists and the benefits of embarking on the same journey of becoming an LMT."
SUMMARY
We have shared some of the primary benefits of a career in massage therapy, but be assured, there are many more benefits, including all the fantastic people who work in this field. They are some of the best, most caring people you will ever meet.
If you feel massage therapy could be the right calling for you or someone you know, or you are intrigued enough to find out more, we invite you to call the Academy for Massage Therapy Training at (210) 375-2688 and schedule a free tour of one of our campuses.  We have a program that has a registration fee under $300 and the opportunity to have your entire tuition waived upon successful completion of the program.
Sources:
1. "Bureau of Labor Statistics – Occupational Outlook Handbook – Massage Therapists" – https://www.bls.gov/ooh/healthcare/massage-Therapists.htm
2. "15 Low Stress Jobs to Explore" – https://www.indeed.com/career-advice/finding-a-job/low-stress-jobs
3. "Licensed Massage Therapist Salary in San Antonio, TX" -https://www.ziprecruiter.com/Salaries/Licensed-Massage-Therapist-Salary-in-San-Antonio,TX#Yearly
4. "Bachelor Degree Salary in Texas" – https://www.ziprecruiter.com/Salaries/Bachelor-Degree-Salary–in-Texas#Yearly